Upcoming Event(s): Sponsor Annadan Seva
Samuhika Satyanarayan Pooja, Friday Sep 13th 6:30 pm(click or touch image for details):
Sponsor Annadan Seva
Annadana Bhukti @ Baba's Maha-Samadhi 101: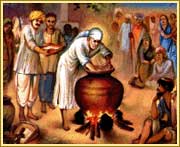 Annadana is a common and prefered activity suggested by all saints and pious souls universally. Please join us with family and friends at any time to thank Sri Sainath Maharaj for helping us, guiding us and being with us throughout the year and to seek His blessings at all times. To volunteer or offer Annadan, please text at (224) 218-9029 or email the temple at maildrop (at) saibaba dot org
©2004-2019, Shirdi Sai Temple Chicago.