Welcome (स्वागत • swāgat)
Have you read Sai Satcharita today?^1000
Please make an appointment prior to your visit for individual pooja services.^1000
For your safety and of our staff, please wear a mask, minimize touch and maintain social distance during your visit.^1000
If your or love ones have COVID-19, learn how the temple is serving such families, Go here to find out.^1000
18+ years of serving Baba devotees from this location (since 2004), offering daily worship services, providing periodic community service programs and more.^1000
Our Services
1 Abhishekam (or holy bathing) amidst chants of sacred vedic hymns (मन्त्र) is done each morning after morning ārtī. The service involves bathing Baba with sanctified water from sacred rivers and other items including but not limited to Milk, Yogurt, fragrant water of flowers like Rose, Jasmine, Lavender,etc. or of essences made of Sandal, Safron among other items. Sacred hymns and Mantras are invoked from Ganapathi Adharva Seersham, Purusha Suktham, Sri Suktham, Rudram and other scriptures depending on the Month (मास) and Tithi (तिथि). The service is usually performed once in the morning. For accurate time of this service visit the daily program page
2 Four aarthi's namely Kakad (morning), Madhyana (noon), Dhoop (evening) and Shej (night) are performed each day in which light from wicks soaked in ghee(purified butter) and camphor is offered to Baba along with singing of verses in His glory to the accompaniment of devotional music. The practice of offering Aarthi to Baba started in 1910 and continues today in temples and homes of Baba devotees across the world. Daily timings for this service can be viewed on the daily schedule page.
3

Daily Worship

The temple performs Hindu style of worship (as followed in Shirdi) and rituals from various Vedic Scriptures. In addition, daily archana pooja is done mutliple times. While visiting or remotely devotees can get archana pooja or rituals done for any individual samskars. Find your item of interest from the poojas offered page, detailing list of services or contact us for any unlisted service.
4

Cummounity Programs and Events

In addition to daily services at the temple, your Sanstha organizes community service programs and spiritual workshops. Regular Annadan seva and periodic food drive is done to help alleiviate hunger in the community. Free distribution of material related to Shree Sai Baba such as Shri Sai Satcharita, Sai Vichaar, Sai Chintan, Sai Smruthulu, etc to propagate Baba's teachings is an ongoing activity of your Sanstha. Plenty of Volunteering opportuinites for devotees including programs to mentor young devotees are available. Special assistance is available to those enduring hardships alone. Your Sanstha focuses on projects that impact devotees lives over long term. You are welcome to volunteer and join us in the effort to lift Baba's work to new heights.
Connect with us
Various Sevas provide opportunities to connect with us. Some of them are highlighted below

Annandan (अन्नदान) Seva
Annadan (annadāna), the gift of food done is considered the best of the charity in Hinduism. Join in Annadan seva at the Temple by scheduling the kitchen to make Naivedya, participate in periodic food drive to mitigate hunger in communities or donate for poor feeding.

Satyanarayan Katha
One of the most common prayer ritual in Hindu household, Satyanarayan Vrat Katha that finds its origins in Hindu scriptuers expounds the principles of living in this age (Kali yuga) through the stories of Shri Suta Muni in Naimiṣāraṇya forest. In Shirdi Sai Baba's context, it was Bhishm, the author of Sai Sagunopasna, who started the practice of adding Baba's worship along with His picture to the age old ritual and it came to be known as Sai Satyanarayan Pooja. The temple holds Katha on Pournima (full moon day) of each month. For more information see the services page..

Yagya
Yajna's (IAST: yajñá) is regularly organized at the Temple during major festivals and events providing opportunities for everyone to take part in. Devotees can also request Yagya rituals offerings to various deities on their day of worship on holy days or other important days dedicated to their relgious and spiritual goals

Parayan Seva
Regular scriptural reading is recommended to gain spiritual knowledge. Sai Satcharita, the life and teachings of Shirdi Sai Baba written by Hemadpant is the most famous and widely read book by Sai devotees. Three types of Parayan (reading) is recommended 1) Daily reading or Nitya parayan 2) Seven day reading or Saptah Parayan and 3) Continous reading or Akhanda Parayan. Chapters from Sat Charita are read as part of daily program and on special events at the Temple.

Paalkhi Seva
Held every Thursday, this seva involves placing a picture of Shri Sai Baba in a beautifully decorated Paalkhi (Palanguin). The Paalkhi is then carried in a procesion by group of devotees amidst music, chants and devotional singing. Upon completion of the procession, Baba's archana pooja is done after which the picture is taken to Chavadi room for Baba to rest. It is a joyous occasion and gives the feeling of participating in the Chavadi procession that was held in Shirdi in Baba's presnece.

Festivals
Festivals are occasions when devotees come together to celebrate and commemorate days of religious significance. Details of upcoming celebrations and activties planned are updated on the upcoming events page.

Individual Samskaras
The Temple offers religous services to fulfill individual Samskara (or Sanskara IAST: saṃskāra), sacraments of Hinduisum also considered rites of passage. The rituals regarded to impart divine grace mark the important stages in life, enabling one to enrich their life. Sixteen prominent Samskaras are in use today. Go to Serivces page for further details.
Events
Main events held during the year.
Shree Ram Navami happens on the Ninth day of Chaitra Maasa
Guru Pournima is held on the full moon day of Ashada Maas
Vijayadashmi and Punytithi event held on the tenth day after Navarathri celebrations to commemorate the life of Shree Sai Baba
In addition special events are held on Temple anniversary day, festivals and special occasions
.

Bhajan Seva
Bhajan sandhya every thursday after Paalkhi seva is an occasion to sing along Bhajans (devotional songs) dedicated to Shirdi Sai Baba. If you have a skill or talent in Music, we are looking for you. Come and join in this activity that will uplift your devotional fervor.
Divine Experience - Sai Devotee, Chicago
We participated in new year abhishek; it was very well and timely done. we feel like we are very blessed with puja.
D. Desai, Chicago
Wonderful pooja of Satranaayan bhagwan, panditji was excellent in all respect. we feel blessed
S. Akula, Ohio
Have been visiting this Temple for over ten years. Beautifilly maintained and helpful staff. Visit Temple often as possible.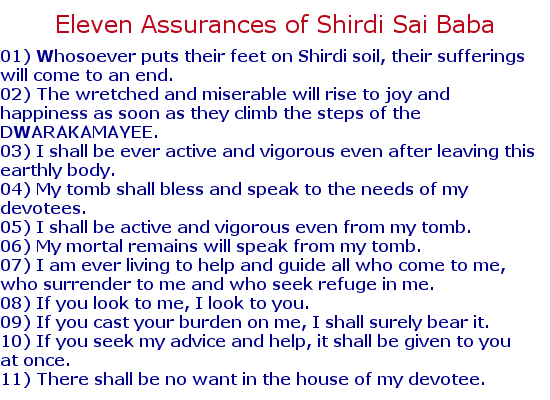 Eleven Assurances
These eleven assurances are famously credited to Shirdi Sai Baba and are at the heart of Baba devotee.

Navavidha Bhakti
In Satcharita, Hemadpant provides description of Navavidha Bhakti while explaining Baba's sayings to one devotee to gater nine balls of stools. The nine forms of devotion when practiced result in strengthening one's devotion.
Images Gallery
Check out few images from past events
Temple Gopuram
Seeds of Love
Navarathri Festival
Paalkhi Procession
Devotees at Arathi
Rangoli by Devotees
Performing Yagya
Ramnavami Jhula
FAQs
Some commonly asked questions
How do I Support the Temple?
You can choose either to donate, volunteer or become a messenger. Financial donations can be made online via Credit Card, Check, Cash, Paypal, Zelle Quick Pay, ACH and wire transfer. To donate in kind, please first check inventory and list of needed items before making a choice. Lastly, get involved in Baba's work by becoming a messenger to spread the word. Follow links in the menu for further information on topic of interest.
How do I do Annandan and Offer Naivedya?
Naivedya is daily offered to Baba after Holy bathing (breakfast), before Madhyana Arathi (lunch) and after Dhoop arathi (Dinner). During the last thursday of every month, poor feeding is done in India. In addition periodic food drives are organized to feed the hungry in parrtnership with Food Banks acorss USA. To make Naivedya in Temple, reserve kitchen slot or simply donate to fight against hunger through annadan seva page.
How do I Get or Gift SatCharita?
Shree Sai Satcharita is a must read for all Baba devotees. It is published in English and other Indian languages. To get your copy or send a gift to your loved ones, request online or contact us.
How do I Host my Event?
Plan to celebrate your event(s) at the Temple with your friends, family and loved ones. Events such as Wedding, Moondan, Nama Karanam, Aksharabhyasam, Annaprasanna, Upanayanam. etc. or rituals such as Satyanarayan Vrat Katha, Yagyas, etc. are regularly held at the Temple. The Temple also provides good opportunity for outdoor Tent events when weather permits. To dicuss your upcoming event, contact us.
Where can I find Timings and Directions info?
Current Temple timings and directions to visit the Temple can be found in Temple information section. If you plan to visit us, please note that our address does not show up in certain GPS devices. If you face that situation, please use the Latitue and Longitude input or interesction input listed in the temple information page.
How do I Contact?
The preferred contact method is Email. But, you can also choose to fill out the contact form, send a text or Call. Our phones are locked during Arathis and Prayer Services. Please leave a message and wait for the call to be returned. If you need a urgent response, send text.